Privacy Policy
Effective Date of Current Policy: January 1, 2021.
This website ("Site") is provided by Barile Family Funeral Home and Cremation Service. This Privacy Policy ("Policy") explains how we collect, use, and disclose personal information for services provided on this website ("Site"). Your prior activities on the Site may have been governed by an earlier version of this Policy.
What We Collect
Personal Information. We collect personal information you choose to provide to us in connection with your activities on the Site, such as using our pre-planning form and funeral arrangement form. This information may include your name, email and postal address, phone number, and any other information you submit on the Site.
Other User Information. In addition, we automatically gather certain other potentially identifying information and store it in log files. This information includes (as applicable) browser type and version, operating system and network, referring/exit pages, date/time stamp, whether you are a new or returning visitor, and frequency of visits. We collect and store this information on an individual basis and in aggregate, or combined, form; we do not connect it to an individual user's personal information.
Cookies
A cookie is a small text file that is stored in a user's computer for record-keeping purposes. If you reject cookies, you may still use our Site.
Analytics
To determine how many users visit our Site, how often they visit the Site, and to better understand the areas of greatest interest to our visitors, we use a tool called "Google Analytics" to compile this information for us. As a result of your visit to our Site, Google may collect information such as your domain type, your IP address, and clickstream information. We do not combine the information collected through the use of analytics tools with personally identifiable information. For more information about the analytics company's ability to use and share information about your visits to this Site, see https://policies.google.com/privacy?hl=en.
How We Use Information
We store and process your personal information in connection with the purposes for which you provided it (for example, to contact you in response to a request for information). We may also send you information about products and services we believe will be of interest to you, and/or contact you regarding such products and services.
How We Share Information
We may share your information to comply with law enforcement requests and judicial proceedings, and to ensure the safety and security of the Site. It is possible that, at some time in the future, our company may be sold along with its assets, or may engage in business transactions in which customer information is one of the assets transferred. In such a case, the customer information which we have gathered may be one of the business assets we transfer.
We do not rent or sell email addresses, postal addresses, or telephone contact information to unaffiliated third parties, except as described above.
Policy Changes
From time to time, we may use your information for new, unanticipated uses not previously disclosed in our Policy. If our information practices do change materially, we will post the changes to our Site and revise our Policy accordingly.
Links to Third Party Sites
This Policy applies only to information collected by this Site. From time to time, the Site may link you to other websites ("Linked Sites") that are not owned by us, even though they provide goods or services related to our company. We do not control the collection or use of any information, including personal information, that occurs during your visit to the Linked Sites. Further, we make no representations about the privacy policies or practices of the Linked Sites, and we are not responsible for their privacy practices.
Be careful of disclosing any of your personally identifiable information when leaving our Site. We encourage you to be aware when you leave our Site and to read the privacy statements of every website that collects personally identifiable information.
California Privacy Rights
Pursuant to California Civil Code Section 1798.83, users who are California residents can request certain information about the sharing of their own personal information with third parties for direct marketing purposes during the past year. The information which you have a right to receive includes the categories of personal information disclosed by us for direct marketing purposes during the preceding calendar year and the names of the companies that received such information. You are entitled to receive a copy of this information in a standardized format, and the information will not be specific to you individually.
California residents can request this disclosure by sending a request to us using the contact information provided below. Please provide sufficient information to allow us to identify you in our records.
Questions
If you have any questions or concerns regarding our Privacy Policy, you may contact
Barile Funeral Home, Inc.
482 Main Street
Stoneham, MA 02180
Telephone: (781) 438-2280
Facsimile: (781) 438-4182
E-Mail: ralphjr@barilefuneral.com
---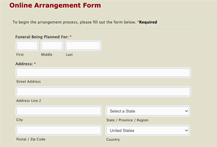 Arrange Now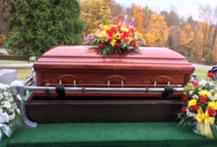 Burials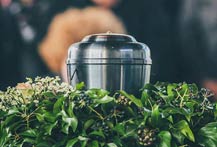 Cremations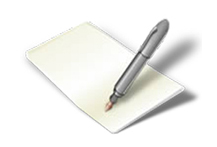 Testimonials
Barile Family Funeral Homes | 482 Main St Stoneham, MA 02180 |
(781) 438-2280
Doherty - Barile Family Funeral Homes | 11 Linden St Reading, MA 01867 |
(781) 944-1589

---